WASHINGTON – On March 8, 2018, the Radio Television Digital News Foundation will host its 28th annual recognition of First Amendment champions – The First Amendment Awards: Freedom Fails Without A Free Press. The biggest names in broadcast and digital journalism will gather at the Washington Marriott Marquis in Washington, D.C. for the black tie dinner and awards ceremony.
"We are experiencing an unprecedented number of attacks to our integrity and role in society," said Dan Shelley, Executive Director of RTDNA/RTDNF. "Showcasing and celebrating responsible journalism matters more than ever. Through our First Amendment Awards, we shine a light on individuals and news organizations who seek and report the truth ethically and responsibly."
The 2018 honorees include:
First Amendment Award – Meet the Press
This award honors an outstanding individual or organization which champions the First Amendment and press freedoms.
Moderated by NBC News political director Chuck Todd, who will accept the award, NBC's "Meet the Press" is the longest-running show in television history, currently celebrating 70 years on the air. "Meet the Press with Chuck Todd" is where newsmakers come to make news — setting the political agenda and spotlighting the impact Washington decision-making has on Americans across the country. It was the #1 most-watched Sunday public affairs show across the board for the 2016-2017 season, reaching more than three million viewers every Sunday and millions more through social, digital and on-demand platforms. "Meet the Press with Chuck Todd" brings its authority and influencer interviews to MSNBC with "MTP Daily" weekdays at 5 p.m. ET and to the "1947: The Meet the Press Podcast." The broadcast launched its first-ever film festival in collaboration with the American Film Institute in November 2017.
Leonard Zeidenberg First Amendment Award – Joe Scarborough and Mika Brzezinski, MSNBC
Named for the late Broadcasting & Cable senior correspondent, Leonard Zeidenberg, this award is presented to a radio or television journalist or news executive who has made a major contribution to the protection of First Amendment freedoms.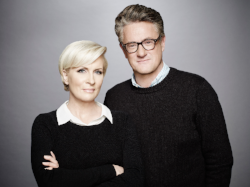 Joe Scarborough and Mika Brzezinski are co-hosts of MSNBC's "Morning Joe," which features interviews with top newsmakers and politicians and provides in-depth analysis of the day's biggest stories. The show celebrated its 10-year anniversary in 2017 and shattered MSNBC's ratings record by delivering the highest ratings ever during 6am to 9am in the network's 21-year history and beating CNN in total viewers for the 8th straight year. "Morning Joe" has been called "the thinking viewer's choice" by USA Weekend and "an important wake-up call for political and media leaders" by the Associated Press. Scarborough served as a member of Congress from 1994 to 2001 and while in office, he was a member of the Judiciary, Armed Services, Government Reform and Oversight, and the Education Committee. Brzezinski is the author of three best-selling books and is the founder of Know Your Value, an empowered community that helps women recognize, and be recognized for, their personal and professional value by developing and inspiring their individual growth.
First Amendment Service Award – David Rhodes, CBS News
This award honors professionals in local or network news who work in an off-air, management, largely behind-the-scenes capacity.
David Rhodes was named president of CBS News in 2011.
Rhodes oversaw the creation of "CBS This Morning," a morning show with a serious news focus, in 2012. Since its launch, the broadcast has added more than a million daily viewers and is delivering the network's largest morning news audience in nearly 30 years. Most recently, he named Jeff Glor as the next anchor of the "CBS Evening News."
In 2014, Rhodes, with CBS Interactive, launched CBSN, which live-streams CBS News' journalism to new audiences and is available 24 hours a day on mobile, CBSNews.com, and streaming services.
Rhodes joined CBS from Bloomberg LP, where, as head of U.S. Television, he was responsible for all programming, development, editorial, and newsgathering. He began his career at the Fox News Channel in 1996 and later became the channel's vice president of news, where he was responsible for the network's daily news reports and breaking news—including overseeing the Fox News' Assignment Desk on September 11, 2001.
He has twice been named to Fortune magazine's "40 Under 40" list, he's also been named to the Hollywood Reporter's "35 Most Powerful People in Media" and to GQ's "50 Most Powerful People in Washington."
First Amendment Leadership Award – Gretchen Carlson
This award is presented to a business or government leader or other individual who has made a significant contribution to the protection of the First Amendment and freedom of the press.
Gretchen Carlson is one of the nation's most successful and recognized news anchors and a tireless advocate for workplace equality and the empowerment of women. She most recently hosted The Real Story on Fox News for three years, and prior to that co-hosted the #1 rated cable morning news show, Fox and Friends, for more than seven years. She reported and produced a 30-part series on domestic violence that won several national awards. In 2015, Carlson's first book, Getting Real, became a national best-seller. Her latest book, Be Fierce, debuted in 2017 as New York Times bestseller, and she was recently named president of the Miss America Organization.
Lifetime Achievement Award – Robin Roberts, ABC News
Robin Roberts is co-anchor of ABC's "Good Morning America." Under her leadership, the broadcast has won five Emmy Awards for Outstanding Morning Program and the 2017 People's Choice Award for Favorite Daytime TV Hosting Team.
Roberts has been honored with the Walter Cronkite Award for Excellence in Journalism, was inducted into the Broadcasting & Cable Hall of Fame as well as the Sports Broadcasting Hall of Fame, and named one of Glamour's Women of the Year. She was voted the "Most Trusted Person on Television" by a Reader's Digest poll in 2013.
Roberts was recognized with the Arthur Ashe Courage Award at the ESPY's in July 2013 for the strength and courage she has displayed throughout her life and career.
Roberts was named co-anchor of "Good Morning America" in May 2005. She began contributing to the morning program in June 1995, and prior to that, she was a contributor to ESPN as a host on "SportsCenter" and contributing to "NFL PrimeTime." Roberts has worked in broadcasting for more than 30 years.
Roberts is a native of the Mississippi Gulf Coast and currently resides in New York City.
The annual First Amendment Awards Dinner & Show is an opportunity to recognize and support responsible journalism and is the Foundation's biggest annual fundraiser, raising essential funds to ensure that the broadcast and digital news profession remains a critical part of our nation's free press for generations to come. To purchase tickets and tables, visit www.firstamendmentawards.org.